La poesia, l'enigma, l'assurdo: questo è il paradigma della riflessione e dell'opera di David Adamo.

DAVID ADAMO La poesia, l'enigma, l'assurdo: N.O.GALLERY fino al 30 ottobre 2009

Partendo da oggetti differenti David Adamo crea sculture, installazioni e performance che contrastano la razionalità e si calano nel paradosso e nella contraddizione attraverso simboli.
Utensili pericolosi sono resi fragili e innocui grazie ad un'attenta manipolazione. Con gesti cari alla pratica scultorea David Adamo origina installazioni con equilibri precari, svuotando gli oggetti della loro materialità.

Gli oggetti scelti sono spesso privati del loro uso originario e diventano proposte di forme inedite.
Nelle perfomance predomina l'assurdo dove gran parte dell'interpretazione è lasciata allo spettatore.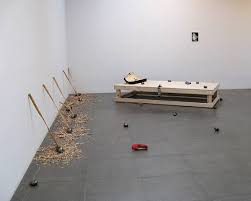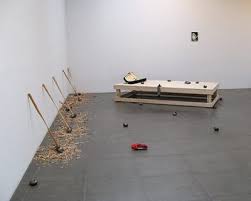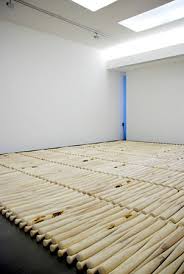 L'opera di Adamo si compone di apparente casualità che origina forme e figure ricolme di carica simbolica e metaforica.

DAVID ADAMO (Born in Rochester, New York, 1979. Lives and works btw New York and Berlin) SOLO EXHIBITIONS: 2009 Le Confort Moderne, Poitiers, France, Hoet Bekaert Gallery, Ghent, Belgium, Brandstrom Stockholm, Stockholm, Sweden ; 2008 Fruit and Flower Deli, Berlin, Germany, Untitled (The Rite of Spring), IBID PROJECTS, London, UK, Untitled (Louli), Fruit and Flower Deli, New York, USA; 2007 Untitled (Valeria), Dispatch for Les Urbaines, Switzerland, Museum Museum,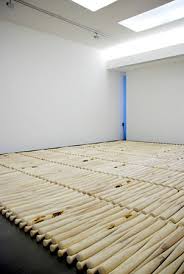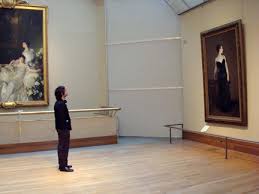 Dispatch, New York. Part of Performa 07 (exh. cat.), My Own Private Marathon, Dispatch, New York. USA SELECTED GROUP EXHIBITIONS AND PERFORMANCES: 2009 Thessaloniki Biennale, Thessaloniki, Greece; 2008 IBID PROJECTS Hoxton Square, London, UK, Some Thing Else, Peter Blum Chelsea, New York, USA, Moonlight, Jota Castro Studio, Brussels, Belgium, Object Salon, Honey Space, New York, USA. Curated by Bob Nickas; 2007 INTERCLUB, Miami Beach Cinematheque, Miami Beach, USA, Snofrid, Fruit and Flower Deli, New York, USA, Beyond the Zero, Peres Projects, Athens, Greece, Grow Your Own, curated by Peter Coffin, Palais de Tokyo, Paris, France, Reports, The Explorers Club Research Collection Department, New York, USA, Eternity Awaits Part I: The Spy Who Loved Me, Art in General, New York, USA; 2006 My Own Private Marathon, Museum of Natural History, New York, USA, Invationistas, Kling and Bang Gallery, Reykjavik, Iceland, Everything beautiful and noble is the result of reason and calculation, Elizabeth Foundation Gallery, New York. USA, Lovely Shanghai Music, Shanghai Zendai Museum of Modern Art, Shanghai, China (exh. cat.). Curated by John Armleder, Lisa Kirks Greatest Hits, Wayward Cannon, London, UK, Re-Make/Re-Model, D'Amelio Terras Gallery, New York, USA, Affair, TART Contemporary, San Francisco, USA, Washington Project for the Arts/Corcoran, Corcoran Museum, Washington D.C., USA. Curated by Howie Chen; 2005 Do You Like Stuff?, Swiss Institute, New York, USA, Red White Blue, Spencer Brownstone Gallery, New York, USA, My Own Private Marathon, The Metropolitan Museum of Art, New York, USA, On The Beach, Printed Matter, New York, USA; 2004 None Of The Above, curated by John Armleder, Swiss Institute, New York

David Adamo Untitled (Valeria), 2007

PRESS RELEASE

DAVID ADAMO
September 18th - October 30th, 2009


N.O. Gallery is pleased to present the first Italian solo show of David Adamo.


OPENING ON FRIDAY THE 18TH OF SEPTEMBER 2009 FROM 6.30 P.M. TO 10.00 P.M.

During the art week end, organized by STARTMilano, on September 18th, 19th and 20th, the gallery will be opened on Saturday from 12.00 am to 9.00 pm and on Sunday from 12.00 a.m. till 7.00 pm.
The exhibition will be on view from Monday to Friday from 3.00 p.m. to 7.00 p.m.. Saturday and mornings by appointments. Sunday closed.


The exhibition is conceived as a single installation and it is based on a large scale piece: a suspended concert harp anchored on stage. A minimal arrangement is scored to indicate where cultural and historical references come together revealing a disorientating and self-consciously poetic as a multi-layered environment.

David Adamo's work is characterized by performance and research trips, incidents that are the starting point for a sequence of installations and projects in which Adamo aims to dissect and reprocess both gathered data and the memories of his experiences. Never satisfied to allow boundaries to be defined for him, Adamo navigates limits of normal behavior and circumstance, and doing so he redefines where those borders lie.


Adamo's work is a combination of formed and found materials, with apparently no connection, suggesting the idea of a remnant of some prior activity or event that is left for the viewer to decode.

A feature of Adamo's work is to present a reality of something having happened, and a play with time, where objects are the only proof.

DAVID ADAMO
18 settembre - 30 ottobre 2009

N.O. Gallery è lieta di presentare la prima personale in Italia di David Adamo che per l'occasione realizzerà un'installazione site specific.





In occasione del week end d'arte organizzato da STARTMIlano nei giorni 18 19 e 20 Settembre la galleria avrà i seguenti orari: sabato 19 dalle 12.00 alle 21.00, mentre domenica 20 dalle 12.00 fino alle 19.00.
La mostra resterà aperta al pubblico da lunedì a venerdì dalle 15.00 alle 19.00. Mattina e sabato su appuntamento. Domenica chiuso.
N.O.GALLERY
Contemporary Art

Via Matteo Bandello 18
20123 Milano, Italy

www.nogallery.it
Skype N.O.Gallery



DAVID ADAMO
solo show
September 18th – October 30th, 2009


STARTMILANO
September 18,19,20, 2009


*** *** ***

ART O RAMA, Marseille (France)

Professional day September 11,12,13, 2009
Exhibition September 14 - 20, 2009

David Adamo
Davide Bertocchi
Raffaella della Olga


_______________



da Francesco.Bonazzi
- F.Bonaz - Vr -